Small 4 Inch Coral Lanterns (Pack of 10)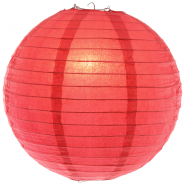 SKU: 4EVP-CR
Small 4 inch dia (10cm) Coral lanterns - Pack of 10
These mini 4"coral paper lanterns can help you to dress the smallest of areas to bring colour and texture to any venue and this warm Coral shade will pop out against neutral backdrops such as a marquee or white washed wall.
If you don't have much ceiling height to play with then look for features around the room that could be added to such as any tall windows or some small trees just outside. Try tying 5 or so, mini lanterns together to make a vertical garland and suspend 3 or 5 strings in a few of the tall windows around the room. You could continue this styling idea with 10 vertical lantern garlands positioned behind the top table for a DIY colourful backdrop which will look beautiful in your wedding photos.
Our LED Buttonlites also fit inside these mini lanterns so pop a light in to 30-50% of your lanterns to add a little sparkle and atmosphere.
Categories
Round Lanterns
Sizes
Mini (4 Inch Dia)
Colours
Pastels
Yellows, Oranges & Reds