Large 30 Inch Charteruse Lanterns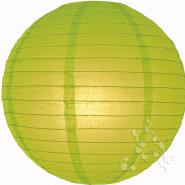 SKU: L30EVP-CH
These tropical Chartreuse paper lanterns will feature as the life and soul of the party brightening up any type of space. The extra-large 30" diameter lanterns will create a dramatic statement piece down the centre line of marquees for a real WOW factor.
Keep your décor fresh by mixing Chartreuse, Fuchsia and Turquoise party lanterns teamed with birds of paradise flowers in tall vases on your tables for the ultimate exotic inspired event.
For a country garden wedding bring the luck of the Irish to your reception with different shades of green to draw the outside in. With Chartreuse, Lime, Grass green, Pear and Sage coloured lanterns you can transform a plain white ceiling into Mother Nature's canopy with some dangling ivy draped amongst your hanging lanterns.
Categories
Limited Edition Lanterns
Sizes
Extra Lrg (30-36 Inch Dia)
Colours
Greens & Blues