8 Inch Small Mauve Round Lanterns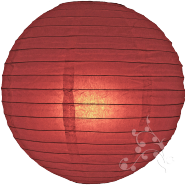 SKU: 8EVP-MV
Create an autumnal, elegant setting at your wedding with our small mauve hanging lanterns. Mauve paper lanterns exude tradition when used with crisp white wedding dresses and bouquets full of roses. Don't just save mauve and muted wine tones for winter weddings though!
Each mauve paper lantern will arrive flat packed and individually wrapped – great for packing into your suitcase for a destination wedding! Each hanging lantern comes with a wire expander that you need to insert to give the lantern shape. There is a hook at the top of the wire frame so that your lantern can be hung up using pretty ribbon or clear fishing line.
If you have a specific scheme for your wedding, such as winter elegance but don't know what hanging lantern colours and sizes will work best let us guide you through the multitude of options – we have over 700 varieties so there will be something to suit each and every bride.
Categories
Round Lanterns
Sizes
Small (6 - 10 Inch Dia)
Colours
Yellows, Oranges & Reds