20 Inch White Irregular Lanterns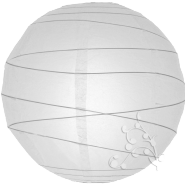 SKU: 20IRR-WH
Large white paper lanterns add to a classic and contemporary wedding beautiful reception. Suspend a few of our large, irregular ribbed white lanterns to create a romantic and dream like setting on the happiest day of your life.… with twinkling lights for dancing and kissing beneath!
Keep your clean white fresh setting with the colour only provided by lots of flowers and candles.
Our white irregular ribbed lanterns offer a unique on the take classic round paper lanterns and will bring a festive air to any wedding reception, engagement party or bridal shower. Whether you're looking for bridal pure white paper lanterns or you have a red, white and blue colour scheme in mind, you'll find what you're looking for here in our extensive range.
OUT OF STOCK
Categories
Irregular Round Lanterns
Sizes
Large (18-24 Inch Dia)
Colours
White & Ivory