18 Inch White Chinese Hanging Lanterns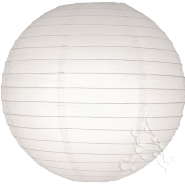 SKU: 18EVP-WH
OUT OF STOCK
Most western countries have adopted pure white as the traditional colour of weddings. Our large white paper lanterns are a key element hen creating a sleep, simply but formal and elegant wedding reception. 
All  white lanterns arrive flat packed and individually wrapped but are ready for use in a couple of quick, simple steps – just take the lantern out of its packaging, carefully open it and out and insert the enclosed wire frame/expander. The wire frame should bend slightly inside the large lantern so that the shape remains taut.
We recommend you hang your large paper lanterns with clear fishing line and use a crocodile clip to attach the lantern to a marquee lining, or tie your fishing line around exposed beams in an old farm barn. We have lots of hanging lantern solutions so just email us or give us a call to talk about your wedding venue.
Categories
Round Lanterns
Sizes
Large (18-24 Inch Dia)
Colours
Pastels
White & Ivory