12 Inch Violet Nylon Round Lanterns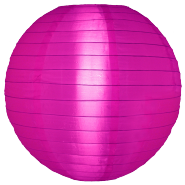 SKU: 12NYL-VI
Violet and purple are often a colour preferred by creative types, so get creative with your wedding decorations by mixing different sizes and shades of purple nylon lanterns – you could even add in some of our purple paper lanterns to achieve a greater mixture of sizes, colours and textures.
All of our small outdoor lanterns have been safety tested and certified for use with mains powered lighting so we suggest you hang them on lighting cords to bring the vibrant violet shade to life. 
Why not let our experts guide you through some nylon hanging lantern colour combinations based on bridal trends, the seasons, or even the catwalks of London, Paris and Milan. Or if you have got a specific scheme but don't know how best to incorporate coloured outdoor lanterns – let us guide you through the multitude of options and choices.
Categories
Outdoor Lanterns
Sizes
Medium (12-16 Inch Dia)
Colours
Pinks & Purples